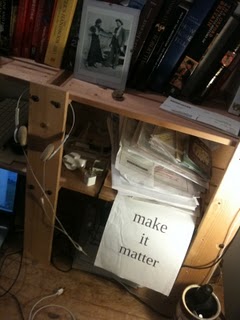 Over a year ago and in another country, I printed the phrase
make it matter
on a sheet of A4 paper and stuck it to my wall. I still have the sheet but I've not really settled where I am, so right now it's just hanging tongue-like from an in-tray. As the Story from Hell continues to make me pay for my stubbornness, I find myself returning to the phrase and making it into the key for a kind of matter manifesto. Here's the shape of it.
Make everything count
Does every moment in your story contribute fully to plot or character? If you removed it would the narrative still work? Would your character still make sense? If the answer is yes to both of those questions, then consider cutting it. Alternatively, make it matter. Thank god for rewriting.
Find your characters' need
What does the character want? If you character does not have an overt desire why is she acting at all? Will your readers believe in a character who isn't convincingly motivated? Once you've covered the overt, what about implicit desires? In other words, are your character's desires complex and multi-layered, even occasionally contradictory, so that every event triggers a nuanced emotional response? Take it further–does your character have a moral need? Is there something broken in him that the story might answer?
Once you've addressed all that for your protagonist, do the same for her antagonist. Make sure their desires drive them to conflict.
Make loss cost
Could your character walk away from the story and lose nothing? If that's the case what's driving him him to make the choices before him? Desire alone is not enough. There must also be jeopardy. If there's nothing at stake for the character there's less reason for the reader to care.
Engage your reader
Does your story raise questions from the start? Do your scenes offer conflict, and deepen the plot? Do your characters engage? If you don't like your main characters, at least at some level, will your readers? You are writing to be read, right? Everything you write should provoke an emotional response in the reader, it should matter to her.
Resonate
OK, so you're not writing a manifesto. It's not an article, either, or a report. But you're dealing with important stuff here, you're raising questions. Your story should engage with the world, and challenge the reader to do the same. It should resonate. Otherwise why write? Otherwise it doesn't matter, does it?