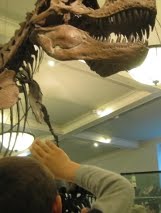 After a while it becomes second nature to work a scene, or at least a sequence of scenes, to a climax. I find myself thinking in those terms. Marshalling my forces. What are the desires here? How are they expressed, and how do they clash. Where's the conflict?
If you're not careful, though, it all becomes a bit literal.
SPOILER ALERT. If you're a Nurse Jackie fan and haven't seen season 2 (specifically episode 4), then be warned. I give things away. Just saying.

So here's a fairly conventional progression. Unusually, Bob wants to go for dinner, and, against type, Mary wants to go to a movie to see the kind of shoot-em-up Bob usually prefers. They argue, half enjoying the fact that they're each on the wrong side of a familiar debate.
Really they're fighting, we know, because Mary has taken a lover, and Bob can't connect with her. He senses something's wrong but he isn't ready to join the dots. She's avoiding the relationship talk Bob seems intent on.
Bob and Mary have a stand up fight outside the restaurant, and in the heat of conflict Mary says something that gives the game away. We end with a hook. Bob walks away without a word, or Mary understands suddenly that what she said is true, not only does she loathe science fiction movies, she never loved Bob. Now she has to process this new understanding.
Yawn. There's nothing wrong with this kind of thing. I like the displaced conflict bit. People should always fight about something other than their true struggle. Oh, and that reversal is nice too. Placing the characters on different sides of a familiar divide is a great way of signaling a world out of balance. So it could have been worse. They could have fought specifically about the issue at stake. Nevertheless, there's something predictable about the process.
Recently, I've noticed a trick that TV writers play. I'm calling it the oblique pay off. That's where the build and the climax are only tangentially related. But when the pay off arrives it instantly transforms everything that preceded it. Bob and Mary's scene doesn't do this because as the reader we're pretty much in on the twist before it happens, and because the climax flows directly from the build up.
When it comes to good writing on TV you can't get much better than Nurse Jackie, which is well into season two in the States right now. Here's an example of an oblique pay off from episode 4 (written by Christine Zander). As you will see from its scrappy nature, this is pulled from a viewing of the show, and has nothing to do with the original script.
Some background to the sequence:
**
**
Jackie Peyton: 'Nurse Jackie'. Maverick matriarch. She's boss and mentor to…
Zoey Barkow: Younger nurse, increasingly competent and independent.
Eleanor O'Hara: Urbane British doctor, Jackie's friend.
Because Eleanor was unable to reach a dying boy in time, Zoey risked her license by applying a procedure that should only be performed in a doctor's presence. The boy survived, and, in a benign conspiracy, Zoey's actions were both covered up and quietly acknowledged by the staff, who placed the boy's life above the rules. Jackie has caught wind of this, and is ambivalent. It's the kind of rule-breaking we've seen often from her, but she feels uncomfortable condoning it in one of her team. Jackie reproaches Zoey, who promptly points out this contradiction. Later:
[ELEANOR places flowers on the counter]
ELEANOR: they're for you.
ZOEY: Excuse me?
ELEANOR: Good work. [Leaves]
[Pause. ZOEY goes to elevator. JACKIE follows and just catches the doors.
They look in through a ward window at a sleeping child, hooked up to a machine. The two women peer in through separate panes, so that, seen from inside the ward, a vertical line is drawn between them.]
JACKIE: That the kid from this morning?
ZOEY: Yes.
[long pause]
ZOEY: I think I'm pregnant
[Another pause. JACKIE reaches out and touches ZOEY'S hair, a little awkwardly. They remain separated. JACKIE withdraws. Glances at her. Looks away, back at the boy.]
Wow. Where did that come from? That's not the pay off the drama seems to have been cooking. We've been focusing on a coming of age story. We've been watching Zoey achieve agency in her own right, and bump up against Jackie's authority, threatening her territory. I might have expected a return to this dispute here, either deepening it or temporarily resolving it.
So this pay off is tangential. A bombshell is lobbed into the place where a climax belongs. That surprise factor is effective in itself. Because we've been looking elsewhere for the climax, this surprise is all the more effective.
But the pay off is oblique, not disconnected. It helps to explain Zoey's more thoughtful demeanor throughout the episode. Perhaps her current dilemma has brought her a new perspective on her job, she's contemplating a rite of passage altogether more important than a challenge to a mentor.
The bombshell also provokes Jackie's gesture of affection and, in her hesitancy, it demonstrates her ambivalence. There's also an acknowledgment, perhaps, that Zoey has already entered Jackie's adult and morally ambiguous world, despite her attempts to stand as gatekeeper.
And all in four words.
Extrapolating from this, I'd say an oblique pay off should
be surprising
be dramatic
transform our understanding of the preceding elements of the story
achieve the affect of the expected climax (deepen or resolve conflict for example), but in an unexpected way.
open up new story possibilities
It's a technique that can be overused, but I think it's certainly worth having in your arsenal.
And what does that do for Bob and Mary? Oh, I don't know. How about this? Bob is dying, or he thinks he might be. Or he's leaving, he has a job abroad, he just wanted to tell Mary at her favorite restaurant. He's her brother. He's gay. An alien? Whatever it is, we should find clues to it when we think back over the previous scenes, clues that were overshadowed by what seemed to be the primary conflict. And now he's changed the game.